People are consuming media differently in 2019 than they ever have before. YouTube videos, blogs, and ebooks are awesome, but people can't always watch or read while they're commuting to work, on a flight, at the gym, walking the dog or waiting in line at the post office.
However, they can listen to your podcast. More than half of the U.S. has listened to a podcast, and those numbers continue to rise, year after year.
Edison Research and Triton Polling have given us some incredible statistics* about podcast consumption: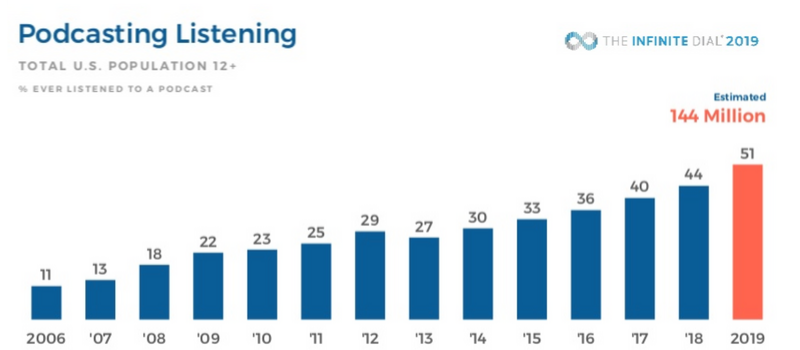 ---
Key Stats
Podcast listenership grew by an estimated 20 million people from 2018 to 2019

Weekly podcast listenership grew by an estimated 14 million people from 2018 to 2019

Weekly podcast listeners consume seven shows per week on average

85% of listeners hear all (or most of) a podcast
With the rise in popularity of podcasts, competition has surged. It is no longer good enough to simply create an audio file, call it a podcast, and send it out. It needs to be informative and engaging. It needs to sound professional, and it needs to be accessible to your audience.
Premier Companies Podcast Production can raise your voice above the clatter. Premier Companies has the team and the tools to make you sound like a seasoned podcast pro.
Get Started With Your Podcast
Podcast Recording
In Studio
Premier Companies' studio offers broadcast quality mics, and professional recording software. Our professional voice talents record thousands of audio files every year for our flagship message on hold marketing service right here in studio.
You'll get radio quality audio files with each and every podcast you record on site. Located in Franklin, TN, just outside of Nashville, Premier Companies provides in studio podcast recording to the entire Middle Tennessee area.
On Location
Those who wish to record remotely can still take advantage of Premier's wealth of resources. Whether you have recording equipment in house or you'd prefer to record via phone or internet, you'll still find great benefit in our on-air talent, professional audio editing, post-production enhancements, and digital distribution.

Host/Talent
Premier Companies' 30 years of audio production experience and expertise isn't the only thing that sets us apart. One of the key advantages Premier provides is the on-air talent to help you seamlessly navigate each particular podcast episode. Whether you're looking for a co-host, an interviewer, a narrator, or ad reader, Premier has voice talents with decades of radio and broadcast experience.
Partnering with a seasoned voice talent will make the voices of your organization sound more comfortable, more engaging, and more professional. You won't find a resource like this anywhere else without paying a small fortune.








Audio Editing
Next level podcast production isn't just about capturing great sound. I'ts about putting together a complete audio production, with seamless timing, transitions, intro and exit music, sound effects, and story telling.
Premier Companies' audio engineers will make sure your podcast has all the right elements, in just the right places, at just the right times.

Content Creation
Content marketing has been our bread and butter for over 30 years. Whether it's creating compelling scripts for on hold messages, websites, blogs, commercials, and social media or drafting an interview for a podcast guest, Premier Companies' creative team has the experience to help you shape your story.


Podcast Enhancements
No matter how compelling your content, without a few key podcast production enhancements, your message likely won't have the impact you desire. Here are some additional podcast elements that will take your message over the top:
Custom music
Ad scripting
Web Optimization
Creating a fantastic sounding, attention keeping podcast is awesome, but your audience can only hear it if they can find it online.
Premier Companies has been building web sites and providing search engine optimization (SEO) to clients for years. Helping websites get found online is one of our specialties.
Your podcast will be hosted on a web page, and like any other web page it needs quality text content to help Google and other search engines to find it, crawl it, and offer it to searchers. Our content marketing experts can put your podcast on the map.

Podcast Distribution
Search engines aren't the only place users will find your podcast. SoundCloud, iTunes, Facebook, Twitter, LinkedIn, and even press releases provide platforms to help you get your podcast to your audience.
Premier doesn't just provide customers with a top quality audio file, we'll help your podcast get found and get played online.

Sample Podcast Production
*Note: Edison's survey is conducted in January and February of each year.
Source: Edison Research.
"The Infinite Dial 2017"