When you PARTNER with Premier
Your Customer Wins!
A majority of our HOLD PLUS customers use our service as an integral part of their marketing and advertising plan and every customer benefits from HOLD PLUS in one way or another.
You Win!
When you provide our audio production services to your customers, they'll thank you.  In fact many PARTNER's have shared notes they've received from customer thanking them for the excellent / turn-key "fix" to their phone messaging needs.  On top of all this you earn referral commissions.
We Win!
We gain a new customer and a couple friends for life!
We make it very simple…
1. We provide you a custom web page featuring your company presenting HOLD PLUS and AUTO ATTENDANT services.
2. You can direct new and existing customers to your custom web page where they will learn all of the details and benefits.
3. You can include your custom web page address address in all your marketing and advertising materials.
4. You can print this custom web page and include it in your new prospect presentations.
5. Your custom web page is the ultimate sales tool for Premier's services.
---
How the "PARTNER" program works for you.
Every time a prospect or customer asks…
"What can I put on hold?"
"How do I get my advertising on hold?"
"Can you help me put music on hold?"
"Where can I get a professional answering message?"

"Can you record a custom message in an info mailbox?"



you can proudly respond with… "YES we can!"

1)  Direct that customer to your custom web page and they'll learn all the details about Premier's services… or
2)  Send us an email with your name, your customer's name and telephone number. We'll contact them right away and provide the details they need to make an informed decision… or
3)  Call our toll-free number and provide the details of your situation.  We'll contact your customer right away with all the details they need to make an informed decision
---
You DON'T have to wait for your customers to ask…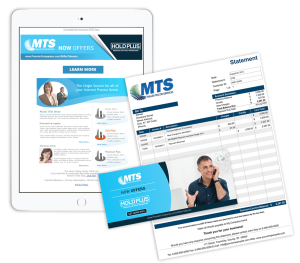 1)  Actively promote HOLD PLUS and AUTO ATTENDANT messaging with virtually no expense by including your new custom web page in every new client proposal… or
2)  Include the web address in your monthly statements, on your web site or in monthly emails… or
3)  Provide incentives for your sales and service team and we'll participate in sales contest programs with you.
4)  Many customer don't know where to buy message-on-hold or custom greeting message services and a simple mention may be all that's needed to answer their desire.
In any of these cases, one of our friendly and knowledgeable representatives will work with your customer to properly answer their questions, helping them to make an informed decision.
---
How are "PARTNERS" compensated HOLD PLUS?
We pay you 10% of the customers initial invoice and we pay you 10% of every invoice we generate for this customer forever.  This applies to any production work we provide including HOLD PLUS equipment, HOLD PLUS programs, IVR, AUTO ATTENDANT, INFO mailbox or any custom telephone audio messages.
All this revenue for simply providing a name and number, one time, via your web site, an email, or voicemail!
---
What's involved in a HOLD PLUS service package?

Your customers have options with Premier.  We'll provide a simple one-time HOLD PLUS program all the way to a turn-key service.  As a leader in the audio telephony business since 1984, we have the experience to help clients get the most out of their HOLD PLUS service.
Hardware – Equipment:
We will work with your customer and technician if needed to be sure we understand their hardware capabilities and how to best employee HOLD PLUS with their system.  If necessary, we will provide the highest quality digital playback equipment at no cost.  Our production work is delivered via broadcast quality digital audio files.
Software – Production:
We employ a creative staff of writers, seasoned voice talents, experienced producers, and engineers to deliver the most professional and entertaining message-on-hold productions IN THE WORLD.  Clients will receive programs with creative writing, male and female voice talents, licensed music and sound effects.  Our objective is to help our clients craft a HOLD PLUS production that yields the greatest results for their investment. 
Creative – Service:
Our attention to customer needs is unmatched. We identify an annual schedule that reinforces the clients current marketing, advertising, or public relations efforts. We communicate with each client, each month as a reminder to update their HOLD PLUS program.  All equipment and productions are covered by our 100% replacement guarantee.  We guarantee everything… even results from callers hearing a HOLD PLUS message.
Investment – Rates:
AUTO ATTENDANT productions are billed at $350 per page with a 1 page minimum.
HOLD PLUS programs are $350 for a single program and as low as $100 each for multiples.
* annual subscription agreements are available for HOLD PLUS
* special message programs can be quoted "per job"

---
It all starts with a script…
We employ a staff of creative writers that have written thousands of scripts for clients in every type of business and in every state!  One great feature of our HOLD PLUS service is that you can get involved as much or as little as you want, in the script writing process.  Here are a few examples of some creative HOLD PLUS messages we've produced.
Benjamin Franklin said, "Haste makes waste." And we agree… That's why Benjamin Franklin plumbers are trained to do the job right the first time. They never cut corners… "Splendid." The next time you need a plumber, call a Benjamin Franklin plumber. They'll fix your problem EFFICIENTLY and right the FIRST time. Thanks for your call today, we'll be right there.
---
It's time to play "Right or Wrong" with your host Josh Winkleman.  Donna, our topic today is pharmacy services. And for 200 points, is this right or wrong?  At NeighborCare, you can find specially compounded dosages not available commercially?  That's right, Josh.  Very good, Donna.  And for 500 points, NeighborCare offers a wide variety of medical supplies and home health products?  That's right too, Josh.  Excellent Donna, and today's final question for ONE THOUSAND points, You can find out about all of the NeighborCare services and even refill a prescription from your own computer?  That's right Josh and I've learned lots about NeighborCare online at NeighborCare.com.  You're our new winner Donna, on "Right or Wrong!
---
Yo dude, have you heard about the way cool deal on the new Volkswagen Jetta for only $199 a month? I mean for that price I could be sportin' a new surf board… and a new Jetta with power windows and power locks. I saw the ad on TV and now I'm checkin out all the details here at Hallmark! What's really cool is that the folks here at Hallmark Volkswagen are real smart… no, really man, they know their Volkswagens and the $199 Jetta deal is the deal for you dude… and me too dude.
---
Centurytel and the "cool products and features department" present [music climax] "Spotlight Buy." A program featuring cool products and features now available from Centurytel. Don't miss the easy payments on your phone bill, no interest, no down payment and the 30-day money-back guarantee. This feature is rated "E" for everyone and is playing now at a Centurytel office near you. Ask for showtimes and specific features when we take your call.
---
Let's get started…
If you have questions or are interested in moving forward as a "PARTNER"
complete the information below and we'll contact you right away.
Or you can call 800-298-2222 x222. 
---