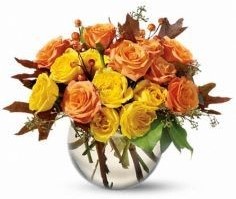 Your 2022 HOLD PLUS CD contains the following messages:
1) SEASONAL / PRODUCT AND SERVICE messages
2) LOCATION SPECIFIC messages, which include details about your specific location
**To get the most from your HOLD PLUS service, mark your calendar NOW to update your HOLD PLUS messages on a regular basis, for holidays or special events.** 
---
Statement 1- St. Patrick's Day 2022
[fx Irish music- Leprechaun/Irish accent] M: Top of the day to ya! Lucky the St.Patrick's Day Leprechaun here, to remind ye that St. Patrick's Day is comin' up on Thursday, March 17th, and you don't want to be caught without your St. Patty's Day flowers! Green flowers signify optimism, renewal, health, and good fortune! So get yourself and a loved one a basket of good luck this St. Patrick's Day, and place your order when someone returns to the line!
Statement 2 – Easter – General 1  
The colors of Easter are here! Order your spring bouquets, custom centerpieces and lilies early before the hop away [fx=boing boing]. And don't forget our many, beautiful flowering plants! Easter is Sunday, April 17th … Let us help you place your order today! 
Statement 3 – Easter – General 2  
Easter is coming soon, on Sunday, April 17th! It's a time of celebration, joy, family… and flowers! Make this Easter extra special with a fresh spring bouquet for your home or a friend's. With the bright colors of spring in full bloom, we can create a variety of wonderful spring arrangements, corsages, centerpieces, bud vases, wreaths and more. Place your order today. And from our family to yours, have a blessed Easter.
Statement 4 – Admin. General 1 
Administrative assistants keep the world spinning, so be sure to make yours feel appreciated with flowers! National Administrative Assistant Day is Wednesday, April 27th!  Let us help you show your deep felt appreciation for all they do all year long.
Statement 5 – Admin. General 2 
Don't forget to say "thank you" for the countless jobs well done, during National Administrative Professional's Day is April 27th, and has been set aside to celebrate and honor those who keep your business running smoothly and help you breathe a bit easier. So go ahead… defy the world of email and voicemail by presenting your secretary or administrative professional with a hand-delivered show of appreciation. Remember, nothing says "you're special" like flowers!
Statement 6 – Teacher Appreciation week / National Nurses week 
Now more than ever, we should show appreciation to those that serve our families. With Teacher Appreciation week May 2-6th and National Nurses week May 6th thru 12th, we are ready to help you show your appreciation to those hard working Teachers and Nurses with a special gift or a beautiful bouquet of seasonal flowers. Place your order today!
Statement 7 – Mother's Day – General 1  
Moms are often the driving force of the family. And what drives them? I'm pretty sure its Love. This Mother's Day,  let your florist help show your love with gorgeous fresh arrangements, unique gifts, fragrant candles, and inspirational gifts. You're sure to find just the right way to tell Mom how much you care. And don't forget to order your Mother's Day corsage. Mother's Day is just around the corner, on Sunday, May 8th We'll be right with you.
Statement 8 – Mother's Day- General 2  
Celebrate the special lady in your life on Mother's Day, Sunday, May 8th, with a little help from yours truly. Delight her with a beautiful floral arrangement, a vase of assorted roses, a lovely corsage or a unique gift from our store. Whatever your choice, we'll be glad to deliver it for you, or let you pick it up and hand deliver it to Mom yourself. Either way, it will be a special delivery that will please her as much as the day you arrived… or pretty close, at least.
Statement 9 – Prom  
[Fx instrumental prom music]  A prom's not a prom without boutonnieres and corsages.  Don't forget to make this special night perfect with unique flowers, custom designed by our floral experts!  For unusual and memorable, wearable designs, we'll create the perfect prom accessory that they will keep forever.  Ask about placing your prom order when we return!
Statement 10 – Graduation  
[Fx Graduation music]  The day is here. The tears are coming and you couldn't be more proud. Celebrate one of life's greatest milestones with beautiful, unique flowers and gifts!  From ready made bouquets and centerpieces to balloons and stuffed animals, we have the perfect graduation gift ideas.  
Statement 11 – Dance Recital 
[Fx Classical/ballet music]  They put in so much work to make this dance recital special. Show how proud you are with beautiful roses, carnations, or a readymade bouquet to say "job well done!".  We can create something beautiful for your special someone.
Statement 12 – Memorial Day General  
[fx=patriotic music] Take the valuable opportunity to honor the courage and sacrifice of the men, women and their families who devote themselves to the service and protection of our nation and its freedom. Celebrate Memorial Day on May 30th by letting us deliver your sincere "thanks" with a patriotic floral arrangement or gift basket of your choice. We'll be glad to take your order in just a moment.
Statement 13 – Father's Day – General 1 
Pops, Old Man, The Papa Bear, Dad. No matter what you call him, his day is coming on Sunday, June 19th. If you want a unique way to say Happy Father's Day this year, leave it to us! Our floral and gift consultants have years of experience creating one-of- a-kind gifts to suit every personality. Stop by our showroom today, and let us help you pick out the perfect way to celebrate dear ole Dad.
Statement 14 – Father's Day General 2 
Let's face it… Sometimes Dad isn't so easy to shop for. This might explain the collection of (ahem) "interesting" ties in his closet. But don't be discouraged! Our staff is ready to help you pick a unique gift or arrangement from our Father's Day selection that's sure to suit even YOUR father… or your grandpa, uncle, brother or friend! Father's Day is Sunday, June 19th…Don't forget to stop by our showroom to place your order, or let us help you when we take your call in just a moment.
Statement 15 – July 4th  
[fx=patriotic music] Show your colors this 4th of July with a spectacular arrangement of fresh flowers for your home or office. Whether you're looking for a patriotic centerpiece for your family celebration or little something to surprise a friend… our showroom is exploding with selection! [fx=fireworks] Stop by today and choose from our fresh floral arrangements, potted plants and wonderful display of decorative accessories. From all of us to you and yours, Happy 4th of July! 
Statement 16 – Friendship Day 
There are few things closer to one's heart than a dear friend. Don't miss the chance to celebrate your favorite people on Friendship Day, Sunday, August 7th! For all the years of laughter and tears and ups and downs, deliver a heart-felt thank you to your friend with a vase of fresh flowers or a gift selected especially for them. The result? Instant delight and a long lasting friendship! Ask us about selecting your gift or arrangement when we take your call.
Statement 17 – Clergy Appreciation Month
With the shepherd doing so much to encourage the flock, wouldn't it be nice if the flock returned the favor? As teachers, counselors, comforters and the ones who unselfishly serve, your pastoral staff and their families could use an extra pat on the back. Say a special "Thank You" with a beautiful floral arrangement or blooming plant! We'll be happy to assist you in just a moment.
Statement 18 – Bosses Day 1
Remember your boss this Bosses' Day, with a gift from your florist. Bosses' Day is Sunday, October 16th, and we're happy to offer a variety of creative and inspiring gift ideas that even the most business minded soul is sure to love. Select an expressive floral bouquet, a green plant for the home or office, or a custom gift basket. Whatever you choose, we'll make sure to add that personal touch and deliver it just in time for the big day. 
Statement 19 – Bosses Day 2   
[fx: Dept.Store PA system]
F: (nasally) "Attention, all employees. National Bosses Day is October 16th. That's Sunday, October, 16th. Thank you." [fx=hang up receiver]
M: (normal) That's right, Bosses Day is on its way, and you certainly don't want to forget to honor your boss. Let us help you show respect for your boss or supervisor with a unique floral arrangement or gift. After all, your boss deserves a gift of appreciation… and we're the gift-giving experts.
Statement 20 – Sweetest Day1 
Saturday, October 15th, is Sweetest Day… and we have the perfect way to send sweet thoughts to those you love! [Fx Female sigh "Ahhhh"] Nothing captures the charm of this special holiday quite like the beauty and fragrance of fresh flowers. Celebrate those who are "sweetest" in your life on Sweetest Day. We'll be glad to help you choose the perfect gift when we return to the line.
Statement 21 – Sweetest Day 2 
Heard of  Sweetest Day?  This unique holiday began when the owner of a candy company in Ohio wanted to say thanks to the everyday people who showed him acts of kindness. Every year in the middle of October, he'd give them sweets! Take advantage of this day to show someone you care, and let those "everyday people" know how much you appreciate them on Saturday, October 15th!. We'd be glad to take your order when we return to the line.
Statement 22 – Halloween General 1 
[fx=eerie music, Dracula voice] Halloween is here. But have no fear. For our treats will be sure to delight you. With floral arrangements, gifts, decor, and I'll promise not to bite you. Visit our showroom to make this Halloween one "spooktacular" event! [fx=witch's laugh] Stop by today, or let us know what you're looking for when we return to the line. 
Statement 23 – Halloween General 2
[Fx Monster Mash song] All over town, ghosts, goblins and little monsters are getting ready to roam the streets in search of something sweet! Celebrate this Halloween with a floral arrangement perfect for the occasion! When we return, order your Halloween flowers and gifts for yourself or a special treat for the ghoulish person in your life! [Fx scary laugh]
Statement 24 – Veterans' Day 
[Fx America the Beautiful] All over the country, Americans will honor our nation's thousands of combat veterans who fought in the service of our country. This Veteran's Day, don't forget to take a moment to say "thank you" to your friends and loved ones for their sacrifice for our freedom! When we return to the line, ask us about our variety of Veterans Day gifts and floral arrangements that are designed to express your gratitude.
Statement 25 – Thanksgiving general 
Thanksgiving's so close you can almost smell the turkey!  This year, send a gift of gratitude to a special family member or friend with a beautiful centerpiece of festive, fall colors! Or create a Thanksgiving table bursting with autumn colors to celebrate the season. We'll be happy to help you select the perfect arrangement when we return in just a moment.
Statement 26 – Winter Holidays -general 1 
It's all the little touches that make the holidays so special.  From holiday cards and gifts to hugs from your closest relatives, everyone loves the holiday season. Send happy holiday wishes and greeting with flowers! Our professional designers can create stunning, festive arrangements to express your best wishes to friends, and family this holiday season. From sophisticated table centerpieces to a simple bouquet of roses our floral designs are always fresh and always beautiful. Be sure to place your orders early for flowers and gifts that can be enjoyed all season long!
Statement 27 – Winter Holidays – general 2  
 [fx: elegant holiday music] Everyone loves a holiday gathering! Make your holiday party extra special with beautiful, festive floral arrangements! They're sure to impress your friends and guests. Or, give a special seasons greetings with a beautiful bouquet featuring all the rich holiday colors. Ask us how we can accent your holidays with fresh flowers when we return to the line.
Statement 28 – Hanukkah 2022 
[fx=Jewish holiday music] Hanukkah begins Sunday, December 18th. As families and loved ones worldwide gather to observe the Festival of Lights, it's the perfect time to celebrate with a festive floral bouquet or table centerpiece? We'll be glad to take your order in just a moment. In search of one-of- a-kind holiday decorations and gifts? Stop by our showroom, and let us help you find just what you're looking for. From all of us to you and yours, have a joyous holiday season.
Statement 29 – Christmas General 1 
[fx=Christmas music] Christmas can't come soon enough! The lights, the trees, the smells, and the colors celebrate the beauty of the season. Our festive holiday bouquets and arrangements are perfect for anyone and any budget. Save time on gift giving this holiday season. Simply provide us with some basic information, and we'll do the rest. Order your Christmas bouquet or arrangement today!
Statement 30 – Christmas General 2 
[fx=Christmas music] Happy Holidays, and thanks for calling. Make spirits merry and bright this Christmas [fx=Ho, ho, ho] with a holiday bouquet or gift basket they'll enjoy all season long! And when you're ready to begin the decorating by filling your home with holiday décor, visit our showroom. You'll find a fantastic selection of ornaments, candles, poinsettias, wreaths and much more to make your home a holiday wonderland! Sunday, December 25th will be here soon… stop by today!
Statement 31 – New Year's 2023
Believe it or not, 2023 is almost here. [fx=countdown, cheers] Ring in the New Year with a festive floral arrangement. Whether you're having a party or simply attending one, fresh flowers make the perfect centerpiece or hostess gift. We have an excellent section of green plants, floral arrangements and gifts to celebrate 2023 in style no matter what your event is. Ask us about a custom gift or arrangement when we return to the line.
Statement 32 – Valentine's Day General 1 2023
[Fx=love song] Love is a gift…have it delivered this Valentine's Day! From stunning rose arrangements or mixed bouquets, to colorful balloons, gift baskets, plants and more… we have exactly what you need to say "I love you" on Tuesday, February 14th. Our delivery schedule fills up fast, so it's important to place your order early! And don't forget men like flowers too.
Statement 33 – Valentine's Day General 2 2023
[fx:That's Amore] Valentine's Day is just around the corner! Don't let Tuesday, February 14th, sneak up on you this year… Place your order early! We'll create a gorgeous rose arrangement, a yummy gourmet basket or a festive balloon bouquet to delight each Valentine on your list. Or for a gift that's extra special, ask us how you can combine all three! Don't let the chance to say "I love you" pass you by. Show your love with flowers… Delight guaranteed!
Statement 34  International Women's Day March 8th  2023
International Women's Day is Wednesday, March 8th.  Celebrate the women in your life and express respect, appreciation and love with a beautiful bouquet of flowers. It's not just like any other day, but a day set aside to value all the women who are the essence of our lives.  When we return, tell us about your mom, sister, daughter, friend, spouse, co-worker or teachers that deserves to be celebrated and we'll create an arrangement as unique as she is.   Ask us more about International women's day in just a moment.
Statement 35 – St. Patrick's Day 2023
[fx Irish music- Leprechaun/Irish accent] Blimey! St. Patrick's Day is Friday, March 17th and it's fast approachin'! You don't want a year of bad luck! Be sure to order your St. Patty's Day floral arrangement, before they're gone! Green flowers are the perfect way to spread good fortune, and a little lucky bamboo couldn't hurt either! When the floral experts return to the line, tell 'em Lucky sent ya, and place your St. Patrick's Day order today!
Statement 36 – Anniversary Gender Neutral 
Your anniversary is the perfect opportunity to let your loved one know you can't imagine life without them. So show your love with the irresistible beauty of roses. Our beautiful rose bouquets range from the traditional to the exotic, with an array of colors to choose from. Leave your loved one speechless with a rose for each year you've been together, or let us arrange a dozen of their favorites. Whatever you have in mind, we'll help you celebrate another year… beautifully. Place your order when we return to the line.
Statement 37 – Anniversary 
[Fx party noise] It's your anniversary! Make sure you express your love with more than just words. Whether it's time to commemorate a friend or family member's anniversary, or celebrate one of your own nothing can express your love with as much beauty as a stunning floral arrangement. From the traditional long stemmed roses to exotic mixed bouquets, our unique designs will leave them speechless. No matter what anniversary, we'll help you celebrate another year… beautifully. Place your order today!
Statement 38 – Baby General 
Nothing says "congratulations for your new baby boy or girl" like fresh flowers! Celebrate the newest addition to your family or a loved one by sending a beautiful floral arrangement! And you can find gifts to celebrate that little one right here in our showroom! We can also create a custom arrangement of blues and pinks just for you. Let us know how we can send your heartfelt congratulations when we return!
Statement 39 – Back To School 
A shiny red apple may brighten a teacher's day… But we guarantee that a floral bouquet or gift basket will brighten their entire week! If you're looking for a creative way to show your love and support to your favorite teacher, let us create a floral design to decorate the classroom or a gift basket to show how much you care. For those that devote themselves to helping others learn and grow, let us deliver the very best.
Statement 40 – Birthday General 1
Put a smile of the face of a loved one or coworker on their birthday this year! Send a beautiful floral arrangement and gift to help them celebrate their special day. We also have a showroom full of gift ideas to provide the finishing touch to your birthday arrangement. We'll be back on the line in just a moment to help you deliver a birthday wish that's one of a kind.
Statement 41 – Birthday – General 2  
Have you ever noticed that a pet and his owner begin to look the same; a perfect match? [Fx dog bark] Our experienced florists have the knack for matching people and flowers… perfectly. And what better way to put a smile on someone's face than giving them flowers to celebrate their very own day of the year! But don't stop there… Our showroom is full of gift ideas to provide the finishing touch to your custom arrangement. We'll be back on the line in just a moment, and we'll help you deliver a birthday gift that's sure to please.
Statement 42 – Business 
Wish your team member or staff person a happy anniversary for another successful year with a sophisticated arrangement of fresh cut flowers . Show your appreciation in a creative way with a, plant, or gift to enhance any office décor. Simply let us know if your colleague has a business anniversary coming up, and we'll come up with the ideas! As always, you can count on us to deliver a lasting and positive impression. Your floral consultant will be happy to assist you momentarily.
Statement 43 – Confirmation/Baptism 
Flowers are a beautiful way to make any occasion even more special! If you are celebrating a loved one's baptism, confirmation or first communion, we can help! Fresh flowers are a wonderful way to commemorate this memorable occasion. We also carry a lovely selection of gifts! Simply stop by and take a look around, or let us assist you when we return to the line.
Statement 44 – Everyday General 1 
[Fx car honks] After a long day at work, everyone could use a little "pick me up!" Send your coworker or loved one fresh flowers to brighten their day! Don't wait for a special occasion to show how much they mean to you. Our floral experts are ready to design the perfect floral arrangement to convey any sentiment to make anyone extra happy! From a simple vase of daisies to an exquisite bouquet of assorted roses, we can create an arrangement to fit any personality and any budget. Send a little happiness… by the bunch!
Statement 45 – Everyday General 2 
[fx=disco music] M:Groovy man!
F:  Flower power is still going strong!  When you want the power to turn an ordinary day into a ray of sunshine, send flowers!  Why not send a bouquet to someone you're thinking of today? Or if you're looking for another creative gift idea, simply ask us when we return to the line. Better yet, stop by our showroom! We have a terrific selection of gifts, plants, accessories and more to suit any personality, any occasion, and even any theme!
Statement 46 – Flowers "Just Because"  
You know, you don't really need a reason to express yourself with flowers. Our floral designers know just what flower arrangements to send to bring a smile, a fuzzy feeling, or just some good vibes! That's the power of a flower. Simply ask, and we'll be glad to assist you in ordering your floral arrangement today. And remember, when you don't know just what to say… let our flowers do the talking!
Statement 47 – I Love You General 1  
Roses, more than any other flower, exemplify love. So when you're looking for a meaningful way to say "I love you", let our floral designers create a traditional or exotic rose bouquet for your special someone. With stunning colors and unmatched fragrance, roses say what words alone cannot. Remember, love is a gift… have it delivered.
Statement 48 – Get Well General  
Flowers are a source of instant delight. Is anyone close to you not feeling well, recovering from recent surgery or simply in need of a pick-me- up? Research from Rutgers University shows that the presence of flowers has an immediate impact on happiness and increases enjoyment and life satisfaction. Make someone's day and place your order in just a moment. We'll help you send happiness in a heartbeat.
Statement 49 – I'm Sorry General 
You've really done it this time. She's so mad you think she may NEVER forgive you. So mad that she's forgotten how irresistible and thoughtful you are. How about reminding her with flowers? There's nothing like a beautiful bouquet of our fresh roses to say "I'm sorry." So when words aren't quite enough, trust your feelings to your florist. Place your order for delivery today.
Statement 50 – Spring  
[Fx "Happy" Pharrell Williams song] Nothing makes the heart happy likes the songs and sunshine of spring time! Bring the beauty of spring into your home or office with a green or blooming plant, or one of our colorful, fresh floral arrangements. Or why not send some sunshine to a friend or coworker with a surprise gift delivered right to their door? Remember, there's no better way to make someone happy than with fresh flowers!
Statement 51 – Summer 
[FX Beach Boys "Surfin Safari" guitar solo]  Whether you're looking for a stunning table centerpiece or a beautiful bouquet to surprise a friend or relative, celebrate summer with a fun bouquet! Nothing says summertime like sunflowers bursting from a colorful vase, or a cheery summer flower arrangement. Just ask us how we can make this an unforgettable summer, when we return.
Statement 52 – Fall 
Celebrate the season of color with our rich floral designs!  Looking for the perfect fall centerpiece for your dining room table?  Need a gift for a friend or colleague, or are you in search of a green plant or autumn wreath to add warmth to your home or office?  We can do it all!  Let us create a custom arrangement for your needs that captures the essence of this colorful season. Ask us about our beautiful, custom fall arrangements when we return.
Statement 53 – Winter 
The excitement of the holidays are over, and now it's just cold and drab outside. [Fx female sigh of boredom) Bring the beauty of spring to life months before the first flowers blossom! Liven up your home décor with vibrant greenery or a fresh floral arrangement. Plus, be sure to pick out a few candles and other accessories from our home décor collection to complete your favorite room's winter weather makeover! We've got everything you need to warm up your home's interior this winter.
Statement 54 – Sympathy – General 1  
Expressing your sympathy with flowers is our service. From the traditional to the contemporary, vase arrangements to sprays… our floral designs will beautifully convey your sentiments. Our caring staff is standing by to listen to your needs. Let us know how we can serve you when we return to take your call. Thank you for your patience.
Statement 55 – Sympathy General 2 
In times of grief and sorrow, we'd like you to know that our professional staff is here to help. From fresh or silk floral tributes to honor your loved one, to bereavement gifts to convey your lasting condolences to the family… we can help you express your care in the way you feel most comfortable. Simply ask to speak with one of our floral consultants when we return to the line.
Statement 56 – Thank You General 
Say "Thank you!" for the thoughtful gesture of a friend, the unconditional support of a family member or the loyalty of a business associate, and allow us to create a customized arrangement to express your appreciation.  Anyone can say "Thank you" so when words won't suffice, increase your vocabulary… Say it with flowers!
Statement 57 – Wedding Gender Neutral 
[fx wedding music] Make your wedding day even more memorable with fresh flowers hand picked and perfectly arranged for your special day! Our wedding floral experts will help you pick flowers that suit you. Leave it to us to have everything you need for the day you say… "I do!"
Statement 58 – Wedding General 1 
[fx=wedding music] We know how important your wedding day is to you. Let our experienced consultants help you plan the perfect day… from bride's bouquet and groomsmen's boutonnieres, to centerpieces and aisle decorations. Our staff can create the perfect floral designs to make your dream come true. Schedule your wedding floral consultation when we return in just a moment. Thank you for your patience.
Statement 59 – Wedding – General 2   
[fx=wedding music] Your wedding flowers will be one of the most photographed details of your wedding (besides you, of course!), so it's important to pick wedding centerpieces and wedding bouquets that truly fit your wedding style. Our staff of expert floral consultants understands the excitement of planning this memorable event, and we're here to make your floral selections as stress-free as possible. Let us help you find the perfect flowers for your wedding AND your budget. Ask us about scheduling a consultation when we return to take your call.
Statement 60 – Event and Party Planning  
Parties can be great! But they can also be a nightmare to plan. Let our event planners help make your next special event or party simply the best on the block! From tent tops to tabletops, no event is too large or too small for us to help make it a success! Ask about party planning in just a moment!
Statement 61 – Add-Ons General 
Turn a beautiful bouquet into endless smiles! Create a floral delivery that's extra special with an attached balloon, candy or plush animal! Our expert floral consultants are full of ideas to make your gifts memorable. Simply tell us to add the finishing touch to your floral arrangement when we return to take your order, and we'll help you create a unique gift that's sure to please.
Statement 62 – Floral FTD   
Did you know we always have a wonderful selection of FTD arrangements? When you're not sure what gift to send, send an FTD flower arrangement, plant or gift basket, perfect for any day of the year! Send your thoughts to your friend or loved one today or any day. Trust us, your FTD expert.
Statement 63 – Floral TEL 
Share some floral joy with a beautiful arrangement sent anywhere in the world with Teleflora!  Ask us about today's Teleflora specials when we return to the line.  We'll be with you momentarily.
Statement 64 –Care and Handling New 
What makes floral arrangements and bouquets last longer than the typical supermarket or convenience store? It's simple…We purchase and receive flowers daily to guarantee you the best selection and freshest cut flowers possible. We take the time and energy to follow proper care and handling procedures, including seeing that each flower receives its unique flower food. From caring for, to the design and delivery of your floral arrangement, our goal is your 100% satisfaction.
Statement 65 – Floral Care Tip   
A little extra care can make a big difference for any size flower arrangement, fresh flower bouquet. Consider this tip for keeping your beautiful floral arrangement fresh for several days! If the flower food solution becomes cloudy, replace it entirely with properly mixed flower food solution. If possible, re-cut stems by removing one to two inches with a sharp knife. Be sure to use a sharp knife or clippers that will not crush the stems. Immediately place the stems into solution. We appreciate your call and will be with you shortly.
Statement 66 – Orchids  
Nothing can surpass the elegance and beauty of Orchids!  When you want something different than sending the usual roses, try exotic orchids.  This season's best orchids are available in an exceptional range of colors that will give your bouquet that special touch, for that special someone! Just ask about our unique orchid bouquets when we return. Our floral designers are happy to customize something personal and memorable.  
 Statement 67 – Rio Roses 
(female Spanish accent) Hola! There is nothing quite as stunning as beautiful Rio Roses! Shipped daily from the highlands of the Andes, they offer unsurpassed beauty and enjoyment. As the highest quality, longest lasting fresh cut roses available in the United States, they have set the standard for gorgeous rose bouquets. Ask us about the variety of stunning colors available when we return to the line. And remember… for superior freshness and quality, ask for Rio Roses by name.
Statement 68 – Home Accessories 
Spice up a kitchen or bring ambiance to your living room or bathroom with a little touch from our Home Accessories department! We are proud to offer you a beautiful selection of decorative accessories, lamps, pictures, candles, and more to bring a little life to your home office, media room, or even the bedrooms! You'll find a unique variety of home décor that makes renovating your home's interior simple, without the hassle and high cost of remodeling. Stop by our showroom today to see the selection for yourself!
Statement 69 – Gifts 
Everyone's talking about our fresh, beautiful floral arrangements. We are known for our elaborate bouquets, dish gardens and blooming plants, we also carry a wide assortment of gifts as well. Including Vera Bradley, new baby gifts, wedding gifts, fashion jewelry, housewarming presents and gifts baskets. We have exactly what you need to compliment the flowers you're ordering today. Let us make you the hero with flowers and gifts that say "I love you", "Happy Birthday", or just "Hang in there". A floral and gift consultant will assist you shortly.
Statement 70 – Inspirational Gifts 
[Fx harp strings] Give a gift of faith and spiritual inspiration for a birthday, wedding, holiday, anniversary or a simple pick-me- up for a good friend or co-worker! Our selection of inspirational gifts could be the perfect match for anyone on your list. When we return, we'll be happy to help you choose the best inspirational gift for that special someone on your list!
Statement 71 – Angels  
[fx harp music] Guardians to man… messengers from God…. Angles have graced the text of history books throughout the ages. Share the presence of an angel from our beautiful collection of angels that are sure to inspire a feeling of hope and peace. Whether it's a gift for yourself, or a loved one, we have an angel you'll want to take home. Stop by to see our collection in our showroom today!
Statement 72 – Fruit/Gift Baskets 
Fruit and gift baskets are a time honored tradition of showing someone just how much you care! When you don't have time to shop all over town, just give us a call! We're happy to create a gourmet gift basket with all the delicious treats sure to make anyone smile! Our experts will customize a perfect basket for your needs; from a "happy birthday Mom!" to a "Congratulation on your promotion," you'll love what we do… and so will they! Simply give us your order when we come back to take your call, and we'll create a basket full of pleasant surprises!
Statement 73 – Gift Baskets 
Whatever the celebration, our gift basket department has the perfect choice. Whether loaded with chocolate, fruit, stuffed animals, or candy, or paired with flowers, our gift experts can customize the perfect basket for you! Just say "I'll take a gift basket" when we answer the phone, and we'll take care of everything!
Statement 74 – Certified Florist New 
You can trust that each arrangement we provide is of the finest quality, designed by experts with unparalleled experience and training. That's why we have Certified Florists. Our designers and staff are dedicated to continuing their education in design, current trends, style and product so they can bring you the finest floral arrangements possible. You can count on our experts to always go the extra mile to make your floral gift perfect!
Statement 75 – Dish Gardens and Blooming Plants 
Give the perfect gift of a dish garden or blooming plant! Everyone loves the look of fresh flowers and plants to create a warm and inviting home or office. From a single rose vase to contemporary floral designs, we have it all. Our professional designers will personally ensure your gifts will be created beautifully every time. We promise you'll love what we do. Please remain on the line. Your call is important to us.
Statement 76 – Garden General  
Some say gardens are a necessity, some say it's therapeutic, and some say it's just a good workout. What ever your reason for gardening, you'll find everything you need to make your garden truly yours… whether it's a tiny, well-loved patch of earth, or rows that stretch as far as the eye can see. Our lawn and garden accessories include wind chimes, bird feeders, decorations and so much more. Why not stop by today and browse our newest items? We look forward to seeing you!
Statement 77 – Garden Annuals, Herbs, Bulbs   
Let the experts in our garden department help you grow the garden of your dreams! Whether it's lush, plump tomatoes, fresh garden herbs, are planning ahead with the right bulbs for next season's blooms… we've got you covered! Our helpful staff is here to assist you with growing beautiful plants, all year long! With combined years of gardening knowledge, there isn't a gardening question we can't answer! So stop by today, we look forward to helping you make your garden grow.
Statement 78 – Garden Fountains and Statuary 
[Fx elegant style music. Female British accent] Turn your garden into an outdoor sanctuary with a garden fountain or statue. Our experienced garden center staff understands that a unique garden piece can serve as a focal point to your landscaping and enhance the overall beauty of your garden design. From sculptures of children, animals, or characters, to replicas of priceless art, you'll find a complete collection to choose from.
Statement 79 – Garden House Plants 
Our indoor plant department is blooming! Stop by our showroom for lush trees, potted plants, and even tiny 2-inch pots for your window. Our friendly, knowledgeable staff is just waiting to share their "green thumb" tips with you and help you with all your indoor plant needs. Just ask about the newest additions to our Indoor Plant Department when we return!
Statement 80 – Garden General Fall Needs 
No matter the size or style of your garden, we have something special to add to it. It's your place to relax and enjoy nature and the beautiful lawn and garden accessories you'll find in our showroom, will create a place that is truly yours. Wind chimes, bird feeders and other garden decorations… We have all that you need to personalize your garden. 
Statement 81 – Outdoor Decorating Service 
[Fx Deck the Halls music] Nothing quite like holiday lights and decorations can bring out the child in all of us during the holidays! Let us design and decorate this holiday season with our Outdoor Holiday Decorating Service! Sit back and relax as we install lighting, wreaths and garland on the outside of your home or business, so that you can have more time to enjoy the season and the decorations. Ask about our decorating services when we return to the line.
Statement 82 – Social Media General 
In today's world, customer reviews are critical. If your pleased with our service we'd love to have you leave a review on your favorite search engine, such as Yahoo, Yelp, Google Plus, Yellow Pages and of course on our Facebook page. Sharing your positive comments helps others know just how much we care about our customers and how exceptional our products are!  We'll return to the line in just a moment, however, while your holding please visit us on-line.
Statement 83 – Facebook, Instagram, Twitter, Pinterest 
We're busy posting great pictures, tips and tid-bits on our Facebook, Instagram, Pinterest and Twitter feeds. Please, take a few minutes to regularly visit our social media and website. This is great content to like and share!
Statement 84 – SPANISH ANNOUNCEMENT 
M: Please note that we do have Spanish-speaking staff members available to serve you.
F: (in Spanish) Please note that we do have Spanish-speaking staff members available to serve you.
M: Thank you for continuing to hold.
Statement 85 – Greeting1 
We appreciate your call; we look forward to helping you. (finish with relaxing music)
Statement 86 – Greeting2 
Your business is important to us. Someone will be right back in a moment. (finish with relaxing music)